"Do you have a house, do you have a car? You should think about your wife and family....."
mayo | environment | feature
Wednesday June 29, 2005 18:50
by IMC Ireland Editorial
Dublin
Shell Vs. People Of Rossport: "Mafia Threats" from Judge Before He jails The Rossport Five.
Shell Lawbreaking In Mayo: What Was Not Told In Court / Indymedia Shell VS Rossport Archive / Justice Delayed Is Justice Denied: An E-Mail To RTE / Joe Higgins Statement / Shell To Sea Dublin Press Conference: Thurs 30th June: Statement / I am Micheál Ó Seighin, of Ceathrú Thaidhg, Béal an Átha, Co. Mhaigh Eo / Galway : Rock Solid Support for the Rossport Five / The Issue For Statoil: Think For A Minute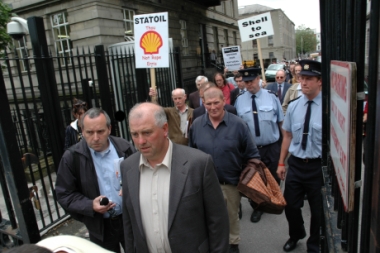 The High Court has jailed five people at the request of Shell for attempting to stop the multinational from laying a controversial, high-pressure, "offshore" gas pipeline through their land in Rossport, Co Mayo. The judge ordered that the five men - four small landowners and a local supporter - be imprisoned "until they purge their contempt", meaning they will not be released until they have promised to allow Shell to dig up their land.
He warned them it was also in his power to seize assets, including their homes and farms. The judge also awarded costs against the five, Philip McGrath, Willie Corduff, Vincent McGrath, James Brendan Philbin and Michael O'Seighin. The landowners in question say if the pipeline goes ahead they will have to leave their homes because of the danger posed by the pipeline, which even Minister Noel Dempsey has acknowledged is "unprecedented" anywhere in the world. They had previously said they were prepared to go to jail rather than be "guinea pigs" in Shell's "experiment". Noel Dempsey has not yet given ministerial consent for the pipeline, yet the five were jailed for refusing to give an undertaking not to obstruct Shell from accessing their land to begin work. The jailing comes 10 years after the execution of nine Ogoni activists for their opposition to Shell's operation in Nigeria.
Record of Indymedia Reports as Events unfolded today - 29th June 05 Farmers attempting to stop Shell from laying high-pressure gas pipeline across their land in Rossport, Co. Mayo in the west of Ireland (a development of a type admitted to be without precedent by a minister in the Irish government) have been appearing in court in Dublin today.

Reports are coming in from supporters of the defendants that the judge, Justice McMenamin, has taken an extreme activist position on the case and threatened the defendants in a very disturbing manner.
Breaking news from the newswire:

Latest news from the Shell in Mayo case in court this morning report that things are not looking great for the people of Rossport. The Judge at one point appeared to threaten every farmer in Mayo with imprisonment. The case resumes in the High Court in court No. 6 at 11.45am. It is looking more likely that some of the people on trial will be sent to jail although sentencing may be deferred until Friday. All support very, very welcome.
Shell to Sea looking for help in protesting this campaign. Click link for regional details.
Pictures from start of protest outside Mountjoy Wed 29th 2005
Statement by Joe Higgins
Further reports will be posted throughout the day.
Background on the case was previously reported on Indymedia.ie here and here